Bankruptcy Attorneys Fees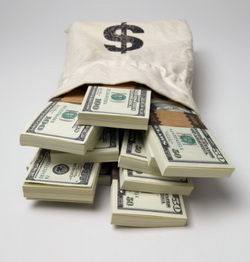 A bankruptcy can be a very complicated process. Choosing an experienced bankruptcy lawyer to help you through the process is crucial, but just what can you expect to pay this attorney? The actual cost of your bankruptcy will depend on a number of factors although there are averages that you can use to get a rough estimate of the cost in your area. Bankruptcy attorney fees may vary depending on the type of bankruptcy that you file.
Chapter 7 Attorney Fees
A Chapter 7 bankruptcy is for individuals and typically liquidates all property that is not exempt during the process. This completely eliminates any debt that you have left after non-exempt property has been liquidated. Your attorney will need to draw up a list of your liabilities and your assets including your current income and a statement of your financial affairs. Bankruptcy attorney fees for a Chapter 7 filing typically run from $500 to $1,500 depending on what is included. You will be charged a fee of $245 for filing the bankruptcy but this is normally included in the attorney's fees. Be sure that you check to see what is included before you sign.
Chapter 13 Fees
A Chapter 13 bankruptcy is a bit more complicated than a Chapter 7 so it may cost a bit more to file and to pay your attorney. This process involves reorganizing your assets and debts and is designed to allow you to pay back at least a portion of the debts over a three to five year period. You can stop foreclosures on your home and pay your arrearages over a period of time. A standard Chapter 13 case will typically cost around $3,000 depending again on the attorney that you choose and whether or not filing fees are included in the attorney's fees.
Chapter 11 Bankruptcy Fees
A Chapter 11 bankruptcy is for businesses that have accumulated more debt than they can afford to pay back. The bankruptcy attorneys fees for this process will be a bit higher than those for consumer or individual bankruptcies. You can expect to pay anywhere from $5,000 to more than $10,000 depending again on the specific attorney that you use and your location. This estimate is also for smaller businesses. Larger corporations may have attorney fees that reach in excess of $1,000 per hour. Check with your corporate attorney and find out what specifically is included in the bankruptcy attorneys fees.
Choosing an Attorney
You will find many bankruptcy attorneys depending on your location. Most major cities have several. Choose one that offers a few years of experience and has handled several bankruptcies of the same Chapter that you are filing. Of course if you are filing for bankruptcy you may have a cash flow problem. Your attorney will still need to be paid. Some require upfront payment while others may allow you to pay a retainer up front and then the remainder when the bankruptcy has discharged. This is something that you will need to check with your attorney before you begin the bankruptcy process.